Maybe y'all have guessed why I haven't been replying to comments (or leaving any on your lovely blogs!) for the past two weeks... Yup, I was on VACATION! Oh, wonderful vacation.
We took a road trip to Virginia to visit tons of family and friends (it seems like lately everyone I know either lives in or is moving to Virginia...). I have so many pictures to share, but I thought it would be fun to first link up to Jenn's What I Ate Wednesday party and share some of the amazing foods that we ate on our road trip...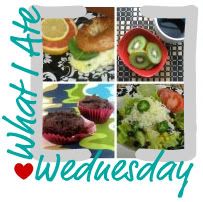 Because really, what is a vacation without some awesome food? So here is a smattering of just some of the incredible things we chowed down...
Ham and cheese sandwich
baked into a croissant
(does that just blow your mind like it does mine???) at a fabulous bakery in a little town called Middleburg.
Also from that bakery- THE best molasses spice cookie I have ever had in my life. I must try and recreate this at home.
Later on, we went to Georgetown and had pizza. I kid you not, it was the best pizza I have ever had. Maybe it was just being on vacation, but pretty much all the food we ate was the best.
At my Aunt's house, we had an extraordinary chicken curry dish that she made for us.
So good, it deserves two pictures. We also had homemade chai lattes to go with it (or chai masala, in keeping with the indian theme). Her secret is to use coconut milk- genius, right? Oops, guess it's not a secret anymore!
Josh and I went on a date one morning to Waffle House. I have some fond memories of eating here as a child when we would visit family in Florida. I love their buttermilk waffles and hash browns with cheese and onion... A heart attack on a plate, but so worth it.
At the end of our trip, we got to stop by a fellow blogger's house and have a BBQ dinner! The whole dinner was fan-freaking-tastic, but the only picture I got was of the cupcakes. We're talking homemade vanilla cupcakes with strawberry frosting... YUMMY. Also, notice how the frosting was melting a little? It's really hot in VA.
I also got to eat at Chick-Fil-A for the first time ever. Why is this restaurant not in Minnesota? I feel so cheated! I loved the waffle fries and the lemonade, I think I could eat there every day.
In case you were worried, nary a pound was gained during this trip either. In between eating, we were so busy swimming in the ocean, going for walks, and clambering up mountains (yes, mountains), that every calorie I consumed was obliterated shortly thereafter. Woohoo!
I'm so happy to be home again! I miss my family and friends, but there's something so wonderful about coming back to your own home after being away. Also, I can't wait to sit down and really catch up with what you all have been up to! Happy Wednesday, friends!